No Leverage For Mike Evans
September 1st, 2023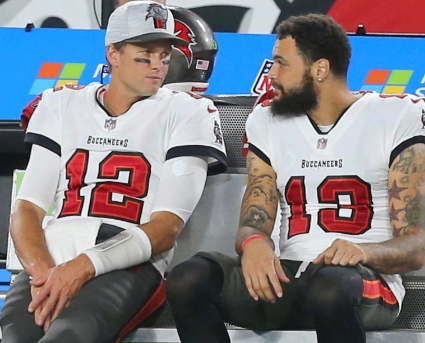 There's a bit of a divide at JoeBucsFan.com world headquarters.
One Joe thinks Mike Evans might very well skip opening day as part of a contract holdout. The Joe typing here thinks Evans has zero leverage and won't do it.
Does Evans think Team Glazer and general manager Jason Licht will go into convulsions because Evans missing games might cost them a Super Bowl this season? Absolutely not.
Second, Evans would forfeit a fat pile of money every week he would sit out. How exactly will that help him?
Third, the Bucs don't get any special salary cap relief this season if they were to trade Evans — because the team is so buried in what's known as "dead money." And a sign-and-trade for the $25 million-plus Evans appears to be seeking annually seems highly unlikely at this late hour.
The Bucs, of course, want to keep Evans, so they're certainly not motivated. And the longer Evans potentially would sit out, the more Bucs fans will turn against him.
Evans should be in shut-up-and-play mode like Devin White is, unless he really wants out of Tampa, which he doesn't. The Joe tying here expects that's exactly where Evans will be soon.
Evans also has said several times that his historic, record-setting streak of 1,000-yard seasons is very important to him. Well, that's in serious jeopardy if he holds out, especially if Chris Godwin proves he's a No. 1 receiver and Trey Palmer stays dangerous.
Get on the field, Mike. The money will come.