More Mayfield "Moxie" Talk
September 8th, 2023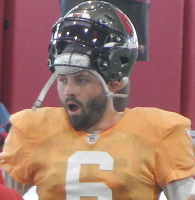 Joe is sick of the word "moxie" when it comes to the world of the 2023 Buccaneers.
It's been everywhere since Baker Mayfield arrived and it won't go away.
The Merriam-Webster dictionary defines moxie as "energy, pep" or "courage, determination" or "know-how."
Hey, isn't that Jameis Winston or Kwon Alexander?
Mayfield has lots of moxie, says head coach Todd Bowles. Bucco Bruce Arians loves marrying "moxie" with Mayfield, too. Heck, Mike Evans even went there yesterday.
"A lot of energy, a lot of moxie, great ball placement, and super-competitive, so I love that about a quarterback," Evans said of Mayfield.
Moxie, moxie, moxie.
Everyone values moxie, it seems, but how much do they really value it?
Joe wonders if Bowles hired offensive coodinator Dave Canales because he has lots of moxie (the energy and pep kind) and Bowles knows he has displayed little moxie in his head coaching career?
Maybe that's part of what has drawn Bowles to Mayfield for years. Perhaps it's why Bowles wasn't interested in handing the ball to Kyle Trask — because he didn't have enough moxie to complement Bowles' moxie shortage as a head coach?
Consider what Bowles recently told TampaBay.com about Mayfield and moxie for a story this week.
"The other guys [in the 2018 NFL Draft] may have had better arms but [Mayfield] was the only one who had the demeanor to fit New York City and you've got to be a different guy to fit New York City," Bowles said. "Sometimes the intangibles of a guy gets overlooked. The moxie. The gathering of the guys. They were going to follow him."
The NFL is full of players with moxie. Joe's not sure it means much unless it comes with consistency.
The Jameis moxie was a waste of time. The Mayfield moxie seems to have led to inconsistency and a few rocky football relationships. When Joe thinks of quarterback moxie, prior to this season, Joe thinks of former Bucs QB Jeff Garcia.
He overachieved and found his way to four Pro Bowls (including one with Tampa Bay) after coming out of the Canadian Football Lague at 29 years old. Garcia had fire and determination, and he could lead and do it all on the field including scrambling and sacrificing his body. Of course, Tom Brady had moxie, too.
Joe hopes the "moxie" adjective soon fades away from Mayfield and gets replaced with "accurate" or "efficent," or "winner."