"His Footwork Is Like A Ballerina Right Now"
September 24th, 2023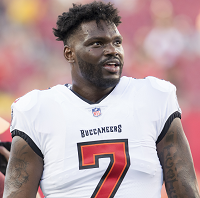 Hardcore Bucs fans might remember that Warren Sapp himself was on the sidelines cheering on Shaq Barrett in 2019 when Shaq broke Sapp's franchise record mark of 16 1/2 sacks in one season.
Sapp got in his hugs as Shaq finished with a three-sack day in the season finale as the Bucs fell to a bad Falcons team after Jameis Winston threw a pick-6 to end the game — and his Bucs career.
Sapp is a huge Shaq admirer, and it's not easy to get Sapp to like anyone playing along a defensive line.
What Shaq is accomplishing now after offseason Achilles surgery and his toddler daughter drowning in the spring is blowing Sapp's mind, he told the Fearless podcast. And it's not just about a man overcoming adversity; it's about what Sapp is seeing on the field.
"Oh my goodness, ohhh, his footwork is like a ballerina right now," Sapp said of Shaq.
Joe has been very impressed by Shaq, too. He's got a ton of burst so soon after his surgery and folks at One Buc Palace say he's close to full strength but not there yet.
Shaq has 41 1/2 sacks in a Bucs uniform. That puts him 13 sacks behind Gerald McCoy, who sits in fourth place on the franchise's all-time list.
Could reaching McCoy be in play for Shaq this season? Joe can dream, though it might not be a total fantasy given the quarterbacks the Bucs face in their final 15 games.