Heroic Comeback For Shaq Barrett
September 17th, 2023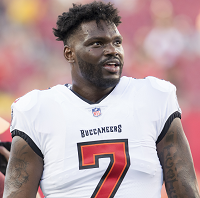 Is it evident at all that Bucs sacks king Shaq Barrett is coming off a blown Achilles and surgery midway through last season?
What a freakin' beast 30-year-old Shaq is.
Shaq played 60 percent of the defensive snaps in Week 1 and Joe was concerned how Shaq might bounce back today.
Not only did Shaq get an early sack of Bears QB Justin Fields, the first of six for the Bucs today, he showed his savvy and hands for the game-sealing, Pick-6 of Fields to give the Bucs a 2-0 record. Shaq was strong from start to finish.
Joe is so impressed. And frankly, Joe thinks Shaq is pushing himself into a special place in Bucs history with how he's come back this season from physical adversity and horrific family tragedy.
Joe sure hopes NBC Sports super insider Peter King wakes up from his Bucs bashfest in a hurry and gets Shaq Barrett on the phone for his signature Monday column.
Shaq should be an early candidate for NFL Defensive Player of the Week, and he's got to be high on any September lists for comeback player of the year. But more important, Shaq looks like he's back to being a legit high-level edge rusher.
If that holds true, the Bucs are in prime shape moving forward this season. That would be one more of many preseason question marks put to bed early.