Figuring Out What Tom Brady And Byron Leftwich Couldn't
September 20th, 2023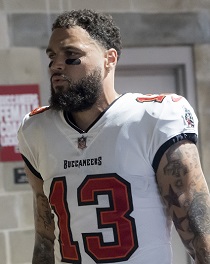 It's sacrilegious at One Buc Palace to even imply that Tom Brady was a lousy co-offensive coordinator with Byron Leftwich last season.
However, that was the cold hard reality.
Not only was Brady showing weakness in decision-making and planning with Leftwich, other Bucs officials were too weak and/or too weakminded to get through to Brady so necessary change could happen.
One thing Brady didn't want to do much of was tossing 50-50 balls to Mike Evans to take advantage of Evans' playmaking skils, physicality and massive catch radius — you know, some of the backyard football stuff he did with Johnny Football in college and early in his Bucs career.
That has returned this season.
Evans' big catch-and-run on Sunday? He wasn't really open, but the ball was delivered and Evans got away with a two-hand shove of the defender and off he went.
The deep touchdown to Evans? It was a 50-50 style ball thrown to a spot even though safety help was en route. Touchdown, Tampa Bay!
How bout Mayfield's long rollout left and a short playground throw to Evans at the left sideline? Evans snagged it and then spun away from a hard-charging defender who didn't wrap up.
Those three throws probably aren't made last year. Brady preferred precision, and he certainly wasn't sprinting out of the pocket to the left.
Joe is not saying Mayfield is better than Brady, but he might be a better fit for this Bucs team. The right quarterback at the right time — at the right price.
"Mike has great run-after-catch; you just don't see it a lot because he usually catches deep balls," Todd Bowles told the Buccaneers Radio Network. "When he catches intermediate balls, the first guy usually doesn't get him down."
Joe hopes Bowles takes that concept to heart and makes it clear to his new offensive coordinator.
Once upon a time, former Bucs playcaller Dirk Koetter used to have Evans operating successfuly in the slot at times, and overall, Koetter was always up for letting Evans use the entire field.