Driven By The Trenches
September 19th, 2023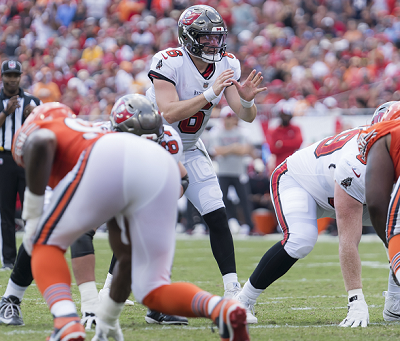 Anyone who suffered through the miserable Panthers-Saints game last night can relate to this Bucs take from a former Pro Bowler and three-time Super Bowl winner.
Joe is referring to Daryl "Moose" Johnston, the color analyst on the No. 2 FOX game broadcast crew. He was on the call for the Bucs-Bears game Sunday.
After the game, Johnston was asked if the Bucs are the favorites in the NFC South. They sure are, Johnston explained.
"No. 1, they're very good on the offensive and defensive line," Johnston said, horrifying the legions of Bucs offensive line doubters.

"And to me, that's where everything starts. It allows your running game to be successful, your passing game to be successful. They're great at pressuring the quarterback, just with their down guys, but then with Todd Bowles' system adding pressure from the linebacker level and the secondary level.

"I still think they have probably the 1-2 or 1a-1b wide receiver combo in the NFL. And one of the great lines this week was Todd Bowles saying , 'Listen, I'm not asking Baker Mayfield to build the engine, I just want him to drive the car.' Well, he's doing a little bit more than just driving the car. He might be working on the carburetor."
Joe will emphasize that Johnston is not a hot-take guy. He doubles as president of the USFL. He watches plenty of game film and is not the easiest dude to impress.
Before declaring the Bucs NFC South favorites, Joe wants a little more confirmation that should come while watching the Falcons at the Lions on Sunday afternoon.
Falcons QB Desmond Ridder passed a good test with a fourth-quarter comeback against Green Bay, but Joe needs to see more to think the Falcons are better than the Bucs.