Dave Canales Confesses To Bad Playcall And Explains Mistake
September 28th, 2023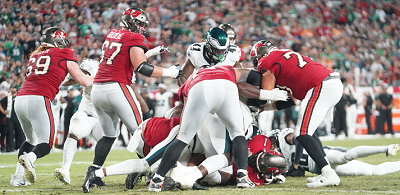 Man, Bucs playcaller Dave Canales is a giant breath of fresh air.
Today, Canales not only put a critical bad playcall on himself. He explained the poor decision Monday night in detail.
Before the snap on X, and afterwards, Joe threw darts at Canales for his stunning call of a run up the gut as the Bucs had a first down on their half-yard line following Dee Delaney's athletic interception Monday night against the Eagles.
The Bucs still had a shot in the game at the time, assuming they put together a drive there late in the third quarter. Instead, the Eagles got what looked like an easy safety as the ball was handed off to Rachaad White. The Bucs had nobody lined up wide and backup receiver Rakim Jarrett was in the backfield blocking. Yes, Jarrett; that's no typo (video below).
Joe noted this week that the Bucs had two negative runs and a no-gain after 12 prior rushes. Simply put, there were better options against a beasly Eagles defense.
Canales agrees and said he's like that call back.
"The half-yard-line run …," Canales began. "Like part of our M.O. is we're going to be able to run the ball at all times; this is the best defensive front in football and just running like a tight run right there in that situation probably wasn't the best thing. I don't want to go into too much of what else we could do in that situation. But I definitely have to take that one, you know, first and foremost for that."
Well explained, Coach, and the candor is much appreciated by Bucs fans from Largo to Lakeland.
WE HERE #PHIvsTB | #FlyEaglesFly pic.twitter.com/o2vdkMn9no

— Philadelphia Eagles (@Eagles) September 26, 2023