"Caught Us Kind Of Lacking"
September 25th, 2023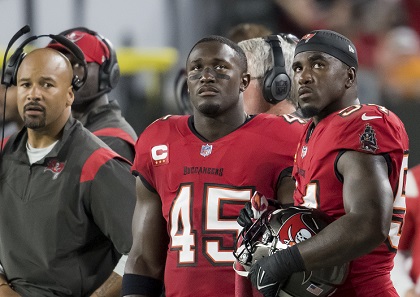 Joe already knows that if fans watch the game film of tonight's Bucs-Eagles mess, they'll find at least a few quality loafs by Tampa Bay players.
That's a bad look at home — in September … on Monday Night Football.
Joe sadly looks forward to calling out those loafs later in the week.
Joe doesn't get it. The Bucs had an extra day of rest and back-to-back home games to prepare for the Eagles. At the very least they could have looked hungrier than the defending NFC champs. It's one thing to lose, it's another thing to get outmuscled and out-hustled.
"They caught us kind of lacking," Bucs cornerback Zyon McCollum told the Buccaneers Radio Network.
McCollum then went on to say "no fight." It was unclear if he was referring to his teammates having "no fight" or the game overall not being a fight. Either way, it sucks.
Joe is not in freakout mode because the Bucs are 2-1 and there are only three undefeated teams in the NFL, including the Eagles. Tampa Bay sits tied atop the NFC South, which is a great place to be.
Still, it's always troubling when the Bucs don't play with their hair on fire. Effort doesn't require talent. Just look at Dee Delaney's sick interception tonight of Eagles QB Jalen Hurts. That was 100 percent hustle and fire.
The Bucs could have used a lot more of that.