Bucs Ranked Worst Of The Undefeated — By Far
September 19th, 2023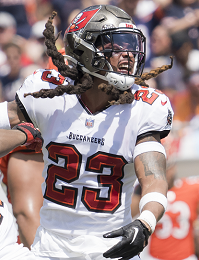 This one from the pay-per-read, we're-bleeding-red-ink, high-profile site TheAthletic.com really got under Joe's skin.
Joe is a subscriber and gets occasional emails from The Athletic with story recommendations. This afternoon an alert to their new NFL Power Rankings arrived and Joe grabbed another dozen Hooters buffalo shrimp and dove in.
Where were the undefeated Bucs? Joe scrolled and scrolled and scrolled and found Tampa Bay at No. 14 overall.
FIVE teams with a 1-1 record were ranked higher and no 2-0 team was ranked lower. Ironically, the Bucs' dismantling of the Bears cost them three positions in the rankings.
14. Tampa Bay Buccaneers (2-0)
(Last week: 11)

The Bucs offense has been basically neutral this season. Tampa Bay is 13th in the league in offensive EPA per play at zero. Its 2-0 start is a function of a defense that has held the Vikings and the Bears to 17 points each. Doing just enough has been enough for the Bucs so far, but how long will that last?
Joe saw "offensive EPA" and wanted to puke. Get that noise outta here. (This may partly explain why TheAthletic.com hired a bunch NFL team beat writers but they eventually were layed off or quit.)
Joe doesn't feel the Bucs were terribly dissed overall because these power rankings were somewhat wacky.
Detroit (1-1) is one notch ahead of the Bucs at No. 13 while the team that beat them in Detroit on Sunday, the Seahawks (1-1), is ranked No. 16.
Respect for the Bucs is growing but certainly not everywhere.