BSPN Spreadsheeter Has Bucs Projections
September 4th, 2023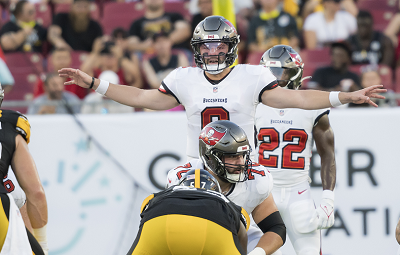 Tired of the folks outside the Tampa Bay area shatting on the Bucs? It's starting to get old for Joe too. At least we have a game to focus on in a few hours when Bucs coach Todd Bowles is expected to speak.
This guy explains why he has more faith the Bucs are going college quarterback-hunting than he has faith in the Bucs making the playoffs. Mike Clay of BSPN, a spreadsheeter, broke down in detail why he thinks the Bucs will get dragged down by the second-worst offense in the league.
First, Clay's numbers-crunching says the Bucs will have the second-worst season point total in the NFL this fall — with only Washington worse by one point.
Clay thinks the Bucs will score 311 points on offense. Offensively last season, the Bucs scored 313 for an average of 18.4 points a game. The 311 points Clay expects from the Bucs works out to a hair less per game, 18.29.
And what do his numbers tell him is the reason for a stagnant offense? You guessed it, Baker Mayfield.
Tampa Bay's defense is still very good, but beyond wide receiver, the post-Tom Brady offense has potential issues all over the board. The most notable, of course, is a quarterback position that will be manned by Mayfield.
Clay has each position group on every team ranked. He has the Bucs' quarterbacks and running backs room both at No. 31. Only Desmond Ridder of the Dixie Chicks is ranked lower, and at running back only the Jonathan Taylor-less Colts are lower.
Clay also has Bucs tight ends at No. 28 and offensive line at No. 29. How you can have an offensive line with Tristan Wirfs rated that badly, well, Joe can't figure that out. Unless Clay believes the rest of the line is that p!ss poor.
Interestingly, Clay has every Bucs defensive position group ranked in the teens. Joe thinks the Bucs secondary could be special but Clay and his numbers do not. He has Bucs corners and safeties rated No. 16 and 17, respectively.