A Real-World Position
September 4th, 2023
BY IRA KAUFMAN
Big picture, people. Big picture.
Some Buc fans don't want to hear it, but this organization is doing the exact right thing regarding Mike Evans and a contract extension. The franchise is keeping its options open, much to the dismay of Buc Nation.
More than a few Tampa Bay fans can't imagine life without Evans in a Buc uniform. Get over it. It's not personal, it's just business.
This is no longer the Tom Brady Buccaneers. For three years, this organization was all-in, surrounding Brady with veterans who could contribute to a championship run. Circumstances have now changed, and Jason Licht has a new plan in place. It's called wait and see — and it is entirely appropriate for the upcoming season.
In a perfect world, the Glazers would gladly show Evans the money and keep him a Buc for life. Why not? He's the best wide receiver in franchise history by a wide margin and he's a terrific representative for the organization.
But we live in the real world and Baker Mayfield will be under center instead of the greatest winner this league has ever known.
The Bucs could win the NFC South for a third consecutive year — or they could go 5-12 and be in the market for a new head coach and new quarterback.
Keeping Evans and Chris Godwin together gives Mayfield the best chance to resurrect his career. But if things go south, Evans could be used as leverage to acquire additional capital for a quarterback-rich 2024 draft.
"At age 30, Evans has more value to a contender then to a rebuilding team with a young quarterback," a former NFL GM told me. "If Mayfield does not have the Bucs in contention by the trade deadline in a weak division, Evans is a valuable trade commodity. He will have real value to a contender If the Bucs are in contention at the trade deadline, I think they will keep him and deal with the contract issue in the off-season."
Buc fans can't believe this team would even consider dealing Evans. A little history lesson is in order.
Joe Montana? Traded. Brett Favre? Traded. Davante Adams? Traded. Marshall Faulk? Traded. Randy Moss? Traded. Tony Gonzalez? Traded. Tyreek Hill? Traded. Ronnie Lott? Released. Jerry Rice? Released.
When I had a chance to talk with the great Bill Walsh years ago about how to build and sustain a winning organization, he revealed one of his core principles: always look to get rid of a player a year early rather than a year too late.
"I have spent many sleepless nights trying to figure out how I was going to phase out certain players for whom I had strong feelings," Walsh said. "But that was my job. I wasn't hired to do anything but win."
Evans has every right to seek a contract extension. And while Evans isn't thinking about a season that could go off the rails, Licht has to consider every possibility. If Mayfield plays well and the Bucs go 10-7, Evans will likely get his money next spring. That's a win-win.
But without Brady on this roster, Vegas oddsmakers do not believe the Bucs have what it takes to post a successful season. And if they're looking for a Caleb Williams or a Drake Maye, the Bucs will need all the resources they can muster.
What if the Bucs are 2-6 and Sean Payton's Broncos offer their first-round pick for Evans? Shouldn't Licht at least pick up the phone and negotiate?
Of course he should.
Throughout NFL history, franchise icons have been traded or lost in free agency. As good as Evans has been since he came aboard in 2014, he's not Jerry Rice. After his release by the 49ers in 2001, Rice went on to play four more seasons, catching an additional 268 passes for 3,648 yards and 21 touchdowns.
Clearly, Rice wasn't through, but San Francisco was through with him. It happens … and it could happen to No. 13.
It's easy to say the Glazers should take command of this impasse and order Licht to pay the man his money. If Brady was 40 and still under contract with the Bucs through 2026, this Evans deal would already be done.
Through his agent, Evans is trying to ramp up the pressure on the Bucs. Nice try.
"Jason Licht will not be swayed by public opinion," said the former GM.
Whether or not Evans returns to Tampa Bay in 2024, his legacy at One Buc Place is secure. His spot in the Ring of Honor is assured and Canton may be calling down the road.
For the long-term health of this franchise, the Bucs are doing the right thing. Mike Evans will have every opportunity to help the Bucs win this fall. But should things unravel, he could be a key to winning big in the spring.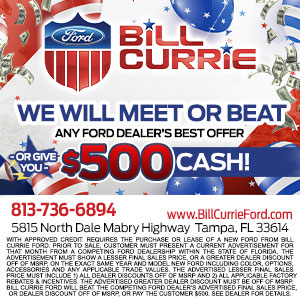 ---
Join Ira Kaufman and Bucs fans on opening day at the Big Storm Brewing Co. taproom in Clearwater, on 49th St. just south of Ulmerton Road. It's a 1 o'clock kickoff and Ira will be hanging out starting at 11:45 a.m. 
Beautiful covered patio with strong sightlines and audio. Indoors, too! Cocktails, Florida's best craft beer and more.
SEE YOU SUNDAY!