Brett Favre Is Buying Baker Mafyield After Expecting "Tom Brady Blues"
September 24th, 2023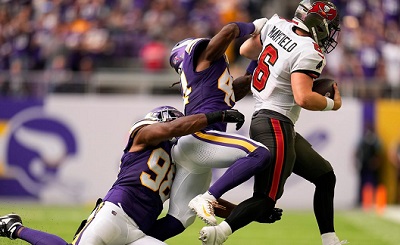 Joe likes this take from Hall of Fame quarterback Brett Favre because Favre admits he's never met Baker Mayfield or talked to Mayfield's teammates about him.
Favre has dabbled in various NFL media since retiring a dozen years ago, from network TV to his former weekly show on SiriusXM NFL Radio.
He was a guest on the recent Fearless podcast and the discussion turned to blaming or crediting coaching versus quarterback play. That led to Baker Mayfield.
Favre likes what he's seeing from Mayfield in Tampa and thinks Mayfield finally may have found his team.
"For the life of me I can't figure out why he hasn't gotten on a team and secured a starting spot," Favre said, obviously referring to Mayfield sticking with a franchise.
"I'm buying the Baker Mayfield success. I think he's mobile enough. I think he's got the arm. I think he's got the moxie, the smarts. Maybe this is his team."
Favre said he thought the Bucs would be a poor team this season suffering, in part, from the "Tom Brady blues."
The "incredible opening day win" in Minnesota, Favre said, opened his eyes and Mayfield's showing through two weeks has done the rest. He emphasized that it doesn't matter if Minnesota turns out to be good or not.
Joe knows Mayfield is being overhyped through two weeks, but not by much. It's very difficult to walk into a new team with a new playcaller — in Brady's shadow — with little preseason action and thrive out of the gate.
In theory, Mayfield should only get better.
Favre added that Evans  "is a huge crutch for Baker to lean on," if Evans stays healthy.