A Judgment Day For Rachaad White And The Bucs' Decision Makers
September 10th, 2023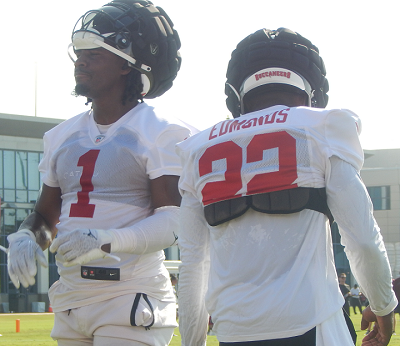 Outspoken and likeable Buccaneers second-year running back Rachaad White started nine games last year and the Bucs' RB1 got a sweet pseudo-promotion after a challenging rookie season.
The blocking was shaky. He couldn't break tackles. He caught the ball impressively well but wasn't stong after the catch.
The Bucs loved what they saw.
Tampa Bay officials decided White didn't have to compete for his 2023 job because he was so darn capable and promising. Head coach Todd Bowles wants a run-focused offense and White is the running back he chose with general manager Jason Licht.
Free agent Chase Edmonds was added for a minimum salary, though he has a world of talent and a strong resume despite coming off a bad 2022 season. Then there's undrafted rookie Sean Tucker out of Syracuse, who was slowed by a heart issue in the spring. The Bucs internally scouted Ke'Shawn Vaughn and thought he was worth keeping, but he was demoted last week and walked out of the building temporarily.
All the talk and conjecture about this somewhat strange running backs group ends today. Thankfully! Joe knows fans that are confident in the backs and those a little scared to watch.
Regardless, the legitimate judgment starts at 1 p.m. in Minnesota. White is going to need more than one very strong start out of nine this season for the Bucs to have a prayer, or for him to keep his starting job all season.
Great time ahead watching our beloved Bucs on Sunday at the beautiful Clearwater taproom @BigStormBrewing. 🍻🏈🍔🥗🥃
Ira Kaufman rolls in to hang with Bucs fans all day starting about 11:45 a.m. @realrockriley in the house. Sweet covered outdoor seating and indoors.
1 p.m.… pic.twitter.com/Eqcik9DcBz

— JoeBucsFan (@JoeBucsFan) September 7, 2023