"We Were Pretty Sloppy"
August 12th, 2023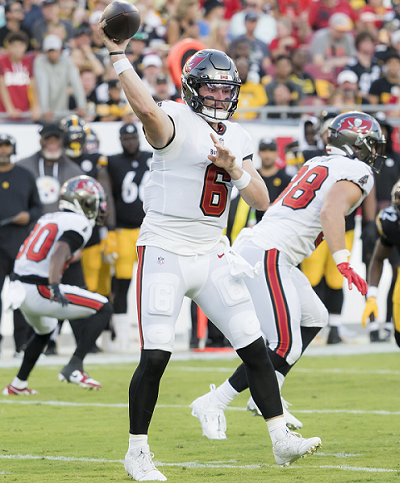 Good for Baker Mayfield!
Joe always appreciates and respects candor. Joe would hope most others do, too.
So Joe liked that Mayfield didn't try to excuse what happened on his offense Friday night in a preseason loss to the Steelers in which the Bucs averaged an offensive penalty per possession. That's beyond depressing.
"A lot of things to clean up, offensively," Mayfield said. "We were pretty sloppy. A few illegal formations – it's the little stuff – just getting lined up right.

"You can't have a good play if you're already hurting yourself. I felt good for the most part, but … we need to be a lot more clean on the offensive front."
Indeed! Aside from the penalties, the Bucs stunk out loud run blocking, specifically three guys who likely will start next month, Robert Hainsey, Cody Mauch and Luke Goedeke.
(No, Joe will not believe Ryan Jensen can start Week 1 until Joe sees him practice in full at least two consecutive days.)
A lot of the offensive penalties were just dumb. Joe doesn't know if there is a quick fix for dumb.