Todd Bowles Implies Starters Will Sit Against The Jets
August 12th, 2023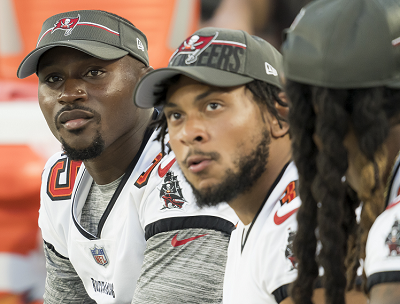 Fifteen key Buccaneers, expected starters, got a rest day last night for Tampa Bay's first preseason game. That included nearly the entire defense.
Look for it to happen again next Saturday against the New York Jets.
Buccaneers general manager Jason Licht made it clear on the team radio network that last night's decision was about rest and not injury concerns.
Todd Bowles spoke this morning and strongly implied the starters will sit because they'll get better-quality work on Wednesday and Thursday in joint practices against the Jets in New Jersey.
Bowles explained the team can execute real plays in those sessions because none of it gets recorded. That means there's no worry about film leaking out when the Bucs throw exotic looks at Aaron Rodgers.
"It's good for the veteran guys to go up there [to New Jersey] because in preseason you hardly show anything. So it's pretty vanilla. And you can get all your stuff in during the week of practice," Bowels said.

"That's why you're allowed to rest those guys come gametime.

"You know, the practices aren't on film so you can really run your defense and your offense, and they can run their defense and their offense. And you can get a look at live stuff full speed. And come preseason game, everything's very vanilla, so that's usually when the younger guys usually get their experience and fly around and play. The practices for us are like games for the veterans. And the game itself is really for experience for the rookies."
The big question is whether the Bucs and Jets will be in pads for both sessions, Wednesday and Thursday. Joe doubts it and suspects the Bucs will be in pads the first day and then sort of half-pads ("spiders" or "shells," as their called on Day 2).
Regardless, expect next week's preseason game to look a lot like last night's when it comes to personnel– hopefully with better Bucs blocking and tackling. The big tests and evaluations will come midweek.