Vikings Watch: 12 More Days
August 29th, 2023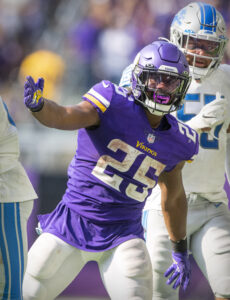 The Vikings, the Bucs' opening day opponent, probably set or tied an NFL record last season by being outscored yet finishing 13-4.
It's a mindblowing stat.
Yes, it speaks to how the Vikings won 11 one-score games, a new NFL record.
And then Minnesota management looked at the roster and made sweeping changes. Makes you wonder.
Joe listened to Pete Bercich last week, the former Vikings linebacker (1994-2000) and assistant coach (2002-2005) who now works in the Minnesota media. He's a great authority on all things Vikings.
He said what sums up the Vikings this offseason is "a lot of question marks." Specifically, Bercich noted running back and cornerback as huge unknowns.
The Vikings are banking on fifth-year running back Alexander Mattison to replace team heartbeat and Pro Bowler Dalvin Cook. Interesting to Joe is Bercich unsure of whether Mattison has put enough on film to get a starting gig — yet Mattison's 2021 numbers are nearly identical to those of Rachaad White last season for the Bucs.
Like 24-year-old White, Mattison, 25, was a third-round draft pick.
"How much better is that defense going to get?" is the question across Vikings country, Bercich said.
Minnesota was a miserable defense last season, so bad that the offense was taking chances to keep the defense off the field. The defensive coordinator was fired and Brian Flores was brought in to rebuild the unit.
One x-factor for the Vikings? He's a foe familiar to the Bucs, free agent signee Marcus Davenport, the former Saints edge rusher.
The way Bercich talked about the shaky and young Vikings secondary, Joe sure hopes Baker Mayfield is ready to shake his rough record on opening days.
---
Join Ira Kaufman and Bucs fans on opening day at the Big Storm Brewing Co. taproom in Clearwater, on 49th St. just south of Ulmerton Road. It's a 1 o'clock kickoff and Ira will be hanging out starting at 11:45 a.m. 
Beautiful covered patio with strong sightlines and audio. Indoors, too! Cocktails, Florida's best craft beer and more.