The Good And Bad About Baker Mayfield Starting On Opening Day
August 13th, 2023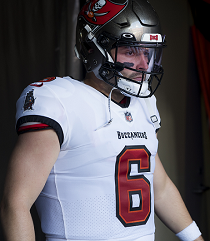 Bucs No. 1 quarterback Baker Mayfield is exactly four Sundays away — four! — from taking the field in Minnesota against the Vikings' new Brian Flores-led defense.
Joe is fired up!
The good news is that back in 2019, Mayfield got a taste of Flores' attack-dog defense when Mayfield's Browns faced the Dolphins. It was one of the best games of his career.
Mayfield finished 24-of-34 for 327 yards, 3 touchdowns and 1 interception. And he only ate one sack.
The bad news is Mayfield has a miserable record in opening day games. And that's Joe being nice. In fact, Mayfield is 0-4 as a Week 1 starter with a total of 3 touchdown passes and 6 interceptions.
And the sour cherry on top is eating 13 sacks while coughing up 4 fumbles in those games. Ouch!
Joe hopes Todd Bowles and company began a deep dive into Mayfield's opening day struggles months ago. That would have been the wise move. Perhaps they did and Mayfield already has appointments lined up with the same psychologist that counseled Tristan Wirfs on his relocation to left tackle.
Jeo doesn't believe in NFL coincidences. That Mayfield record  in Week 1 needs to be explored — while Flores tries to figure out why Mayfield carved him up four years ago.