Todd Bowles Punts On Formal Quarterback Call
August 20th, 2023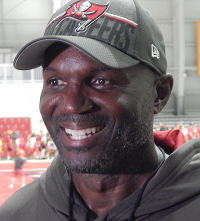 Todd Bowles was not naming a starting quarterback this morning during a chat with local reporters.
The head coach wouldn't play Baker Mayfield last night behind a backup offensive line, he said again today, but he was willing to entrust the body of quarterback Kyle Trask behind that group after No. 3 QB John Wolford injured his neck in the game.
Bowles praised the poise, mobility and growth of Trask, as he displayed last night against the Jets in his finest showing as a professional athlete.
Keep studying and learning the offense is what Bowles said he wants from his quarterbacks this week.
Joe would bet quite a few bucks that a starting QB announcement comes prior to Saturday's final preseason game against the Ravens.