"They've Still Got Dudes Over There"
August 30th, 2023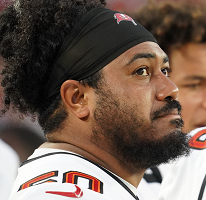 Joe laughs at Peter King and others who think the Falcons are going to roll to a division title this season.
Atlanta has a very shaky starting quarterback, unless they turn to backup Taylor Heinicke, which Joe suspects will happen after the Falcons struggle.
For those who think 30-year-old Heinicke sucks, he's got a .500 record as a starter (12-12-1) and he has a better career completion percentage than Baker Mayfield, and a similar touchdown-to-interception ratio to Mayfield. He's also more mobile. A cynic might say that's why Heinicke has a much bigger salary than Mayfield.
Joe is not on the Falcons bandwagon like many others, and longtime NFL Network reporter and NFL.com writer Steve Wyche did a good job explaining why Joe isn't writing off the Bucs.
It's talent.
As Wyche told The State Of The Saints podcast, the Bucs have the most Pro Bowl talent on paper in the division and the defense should cause problems for a lot of offenses. "They've still got dudes over there," Wyche said of the Bucs as he rattled off names.
The Bucs certainly do have a lot of impressive résumés. And Joe feels very comfortable saying the Bucs have a good 2023 quarterback situation when you compare it to the rest of the division. Not great, but good.
Wyche's concern about the Bucs is the run game. He's doesn't think Tampa Bay can win without a decent run game.
Joe only agrees to a point. The Bucs likely just need to approach a middle-of-the-pack rushing attack (20th-ranked?) to score a few points per more per game than they did last season.
The Bucs had the 22nd-ranked run game in 2016 and finished 9-7 in a division filled with stud quarterbacks.
Florida's Elite Restoration Is Your First Call If You See Storm Damage, Water Or Mold, Or Have Any In-Home Disaster https://t.co/zRQduSI50l Call 24/7 and get a free assessment. … $500 back if you mention JoeBucsFan or @IKaufman76 when you first call and eventually use their…

— JoeBucsFan (@JoeBucsFan) August 30, 2023