Schedule Favors Baker Mayfield Starting Week 1
August 8th, 2023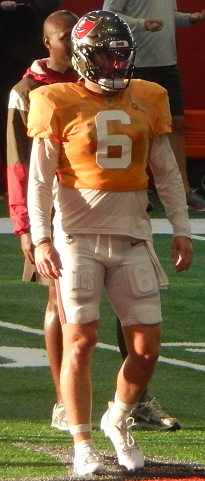 Joe has said this for months, but now the voice of NFL Network and a friend to many NFL big shots is saying the same thing.
The Buccaneers' schedule screams Baker Mayfield starting the season as Tampa Bay's No. 1 quarterback because it's the logical progression to the team's QB situation, Rich Eisen said today on his national radio/TV show.
Mayfield has experience and the Bucs have a tough opening schedule — at Minnesota, home for Chicago and the Eagles, and then off to New Orleans. That's Mayfield territory, Eisen said, and if he doesn't look great, then turn to Kyle Trask at the Week 5 bye.
"I think [Bucs] coaches look at it and say, 'Alright, starting Baker, if he falters, we go Trask. And if that doesn't work, we go Caleb Williams,'" Eisen said today on The Rich Eisen Show.

Caleb Williams is the stud University of Southern California quarterback projected as the top draft pick next April.

"Full Caleb," Eisen continued. "That's the way I see it. Not like, 'Baker, you're here; now we're going to go with the kid, see how far we go, and then throw you in.' This team has too many veterans, too many guys from their championship squad to go ahead and throw them in the mix with Kyle Trask to see what he can do."
Eisen went on to say he's confident Trask isn't tearing up training camp, so Todd Bowles will want to go with Mayfield first because that's the natural and logical order.
For the record, Joe will say neither Trask nor Mayfield are "tearing it up" through two weeks of camp.
Eisen makes all the sense in the world — unlesss Trask changes reality with a beastly preseason game on Friday followed by big-time success in practices against the Jets next week.
If Mayfield isn't the guy, then he gets the hook at the bye and Trask gets to ease in with less pressure — a less daunting schedule and no Mayfield breathing down his neck.
Buccaneers schedule:
1 Sun. Sept. 10 at Minnesota 1:00 PM
2 Sun. Sept. 17 CHICAGO 1:00 PM
3 Mon. Sept. 25 PHILADELPHIA 7:15 PM
4 Sun. Oct. 1 at New Orleans 1:00 PM
5 Bye Week
6 Sun. Oct. 15 DETROIT 1:00 PM FOX
7 Sun. Oct. 22 ATLANTA 1:00 PM FOX
8 Thurs. Oct. 26 at Buffalo 8:15 PM
9 Sun. Nov. 5 at Houston 1:00 PM
10 Sun. Nov. 12 TENNESSEE 1:00 PM
11 Sun. Nov. 19 at San Francisco 4:05 PM
12 Sun. Nov. 26 at Indianapolis 1:00 PM
13 Sun. Dec. 3 CAROLINA 1:00 PM
14 Sun. Dec. 10 at Atlanta 1:00 PM
15 Sun. Dec. 17 at Green Bay 1:00 PM
16 Sun. Dec. 24 JACKSONVILLE 4:05 PM
17 Sun. Dec. 31 NEW ORLEANS 1:00 PM
18 Season finale TBD at Carolina