New Fan Punching Bag Luke Goedeke
August 11th, 2023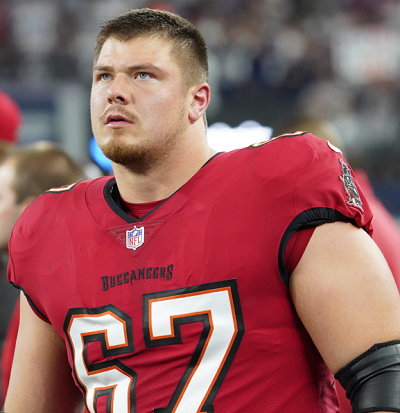 Buccaneers right tackle Luke Goedeke blew up social media tonight, and not in a good way.
Goedeke started at right tackle, which is where he finished last season with a surprise start in Week 18.
As good as Goedeke was against Atlanta in January, he seemed equally bad tonight against the Steelers. And Goedeke wasn't playing against top competition.
During the WFLA-TV broadcast, Buccaneers icon and game analyst Rondé Barber interestingly said the Bucs' front office has its eye on Goedeke.
"Talking to some of the personnel guys, [Goedeke is] the one they have to get right on the offensive line," Barber said.
Perhaps Barber meant the Bucs do not have a viable backup right tackle, or perhaps he meant Goedeke hasn't had a good training camp.
Regardless, tonight wasn't Goedeke's night. And that's ok. It's one preseason game. For those who listened to the Ira Kaufman Podcast this week, Joe predicted the offensive line would struggle mightily tonight.
Also, Goedeke took a lot of heat for the sack of Kyle Trask in the video below. Upon further review, the tight end ran into Goedeke and the running back certainly didn't do his job. Watch it a few times.
To be fair to Goedeke on this one. The tight end runs into him and the RB help was a train wreck. @bobbygameday https://t.co/JhKPcT7w70

— JoeBucsFan (@JoeBucsFan) August 12, 2023