Backhanded Criticism Of Tom Brady?
August 3rd, 2023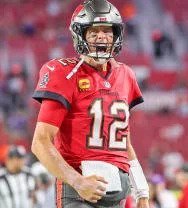 For those who didn't read it or didn't pay attention, Mike Evans dropped quite a nugget during his private sitdown with Ira Kaufman earlier this week.
The Sage of Tampa Bay Sports and JoeBucsFan.com columnist served up this quote from Evans.
"Yeah, it was definitely frustrating," Evans said of his 11-game touchdown drought last season. "We were losing and we weren't scoring points. We just played bad ball all year, really. We got to the playoffs and thought we could just flip the switch. It doesn't work like that."
Ira clarified to Joe that Evans was referring to the Bucs offense when he talked about playing "bad ball all year."
That statement sparks a lot of questions.
If the offense was playing bad all year (almost obvious with an 18-points-per-game average), then how much will the Bucs really miss Tom Brady? Heck, a team can find crappy quarterbacks to average 20 points per game. Clubs playing backups last season — Cleveland, Carolina, Arizona and New Orleans — all averaged between 19.2 points and 21.4 points per game.
And if the Bucs thought they could flip a switch in the playoffs, who or what led them to think they could? Was it tied to resting starters in Week 18 or an overall weak mentality within the team?
Whatever happened to the Bucs last season, it too often felt like a Tampa Bay team without Tom Brady at quarterback. So perhaps that's why the 2023 transition has players thinking the loss of Brady is not devastating.