"Kyle Has Earned A Lot Of Locker Room Cred"
August 26th, 2023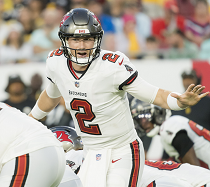 Kyle Trask is a well respected NFL backup quarterback.
That was the happy pregame message for Buccaneers general manager Jason Licht, speaking on the Buccaneers Radio Network.
Licht explained that starting quarterback Baker Mayfield and Trask "had a hell of a camp" and their competition was valuable.
"Baker's been really good and Kyle has earned a lot of locker room cred for the way he competed and what he's done so far," Licht said.
Joe knows all those first-team and preseason reps were fantastic for Trask. The improvement in his game was obvious, but the confidence growth was obvious. And that confidence is critical for any backup quarterback. If you don't 100 percent believe you can play QB and win in every scenario, then your odds of success are poor and your teammates will sniff your weakness in a hurry.
Was the sharing of reps good for Mayfield? Joe sees how Mayfield was 14-of-15 in preseason with 2 touchdowns and no interceptions. That's not the look of a guy not ready to play two weeks before opening day.