"He's Just Not An Ideal Fit"
August 22nd, 2023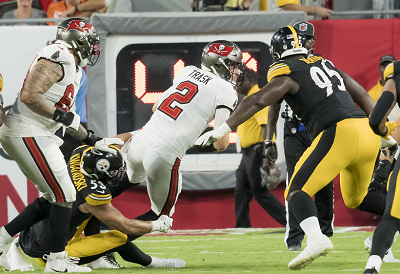 Competing Kyle Trask is no longer competing, but don't call him a loser.
That's the word this afternoon from a former NFL GM who has spent time watching all of Trask's preseason snaps.
Joe's referring to former Vikings general manager Rick Spielman speaking on SiriusXM NFL Radio today. He made two trips to Tampa (spring and summer) to study the Bucs and weighed in on the official Baker Mayfield victory in the starting quarterback battle.
For Spielman, Trask lost more because he's the wrong quarterback, not because of his performance.
"He's just not an ideal fit with this offense," Spielman explained.
Todd Bowles handpicked Dave Canales to be his playcaller and Canales came with a specific style and scheme. Yes, coaches must adapt to players, but Mayfield is a very different quarterback than Trask, per Spielman. And he's a better fit.
"Mayfield's athleticism probably won out," Spielman said.
Also, the suggestion from Spielman is that the Bucs' offensive line will have its share of trouble and a sack-avoiding quarterback like Mayfield is probably necessary early in the season.
Don't blame Trask, Spielman added, because he's looking like a rapidly improving pocket passer that could fit well in a different scheme.