Devin White Mastering "Cheat" Codes
August 4th, 2023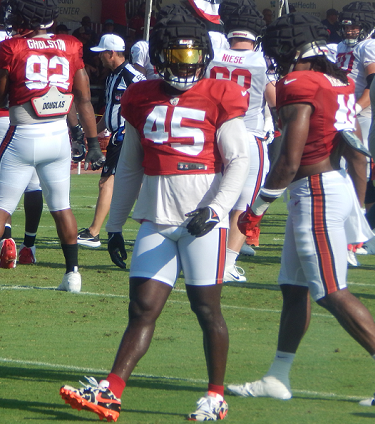 Buccaneers head coach Todd Bowles was glowing today talking about his best defensive player.
That's right. Ask Bowles who his best defensive player is week in and week out and he'll tell you that answer changes with every game. However, Bowles also will say that whomever is the best on a given Sunday, linebacker Devin White is at worst the second best.
White is the engine of the Tampa Bay defense, per Bowles, who noted that White's role is highly complex, similar to the many responsibilities of the nickel cornerback position.
So what kind of training camp is White having? Bowels didn't hesitate.
"Devin's done great. He's been outstanding," Bowles said this morning. "He's really taking understanding of the defense, and it's his defense to run. And he knows when he can cheat plays and when he can't cheat plays. That shows the growth he's showed over the past year."
It sounds like the offseason dedication White told Joe about is showing up.