Baker Mayfield Is Over The QB Uncertainty
August 19th, 2023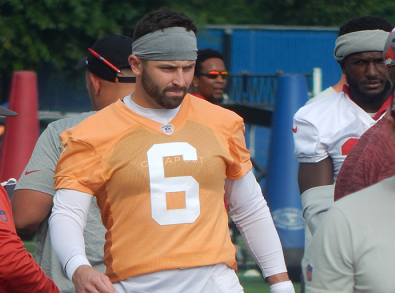 It smells like the Buccaneers' quarterback battle officially has reached charade status as Preseason Game 2 approaches tonight.
On Wednesday, Mike Evans publicly chanted his version of end-this-thing-already. Evans wants a started named ASAP so the new QB can "take control of the offense."
Baker Mayfield is right there with the greatest receiver in Bucs history, so he told TampaBay.com.
"…You definitely want to be in there with the ones the whole time," Mayfield said. "… … But then that's from a communication standpoint, it's important even if I'm not in to make sure I'm hearing what they're giving feedback to Kyle [Trask] and even John [Wolford] and for everybody to be on the same page. … Everybody has got to be on the same page no matter who's in. You want the same task-driven, task-oriented mind."
For those just getting over the loss of Tom Brady, the Bucs announced Mayfield is competing with third-year backup QB Kyle Trask, though nine days ago JoeBucsFan.com columnist reported that the Bucs internally plan to name Mayfield their starting QB.
So what does head coach Todd Bowles want? He's not saying.
What Joe can say is that the way the Bucs cut short practice Thursday, a session that barely felt like more than a walk-through, it felt like team without urgency when it comes to seeing more from its quarterbacks. (Joe made one note from the practice, a roughly 12 yards pass from Trask to David Moore completed with a lot of zip.)
Trask will start tonight and play with a bunch of backups. Mayfield mostly likely will replace him at some point in the first half.
Then, as Joe has written, the logical end to the QB "battle" will be imminent so the Bucs can have a true dress rehearsal week for the Ravens game on Saturday, Aug. 26.