"At First He Was A Little Nervous, A Little Skittish"
August 4th, 2023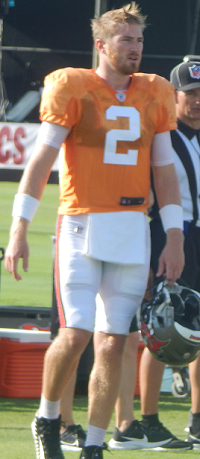 A fresh Friday take on the Kyle Trask experience from one of the great Buccaneers on the roster.
Tristan Wirfs took to the WDAE airwaves and talked about the quarterback competition between Wirfs' good friend and training camp suitemate, Baker Mayfield, and Kyle Trask.
Wirfs said the usual stuff about Mayfield's leadership and their friendship, and then he weighed in on Trask.
Joe was surprised that Wirfs said Trask was a bit nervous when jumping in with the first team but is "starting to" come around.
"Trask has been awesome. I feel like he's starting to just blossom," Wirfs said. "Every day he comes out and gets better.  You know, he had a couple years to sit behind Tom and Blaine, you know those guys, learn a little bit. At first he was a little nervous, a little skittish, kind of being the one in command. I think he's kind of starting to get that swag about him, that presence about him in the huddle."
Joe gets a guy being nervous, but it hits a different level when your teammates see it, especially for a third-year player like Trask.
Week 1 kicks off in 37 days. Joe feels a litle uneasy about Trask if Wirfs is staying Trask is now "kind of starting" to command the huddle like a starter.
That doesn't mean Trask can't handle the job, but perhaps he's not mentally ready for prime time?