Another Dedication Shout To Devin White
August 26th, 2023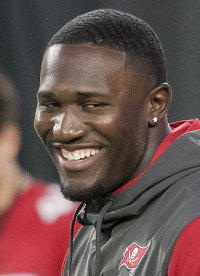 When Joe had a 1-on-1 chat with Buccaneers savior linebacker Devin White in July, White explained that he was more dedicated to football this offseason.
That semmed a little odd considering White had skipped Bucs spring practices and asked for a trade in the winter.
A story at TampaBay.com today referenced White meeting with head coach Todd Bowles and general manager Jason Licht in late March — a secretive meeting during which White's attitude allegedly turned around.
Todd Bowles said he explained to White then, per the story, that he'll get his giant payday after this season — somehwere — and he needs to chill out and stop feeling disprespected because he has to play on his fifth-year option for $11 million-plus.
Joe was more interested in Bowles' comments about White's work ethic.
"He's one of the few guys that practices every day, practices hard, never misses anything and works his tail off. He's not a prima donna," Bowles said. "He's a hard worker. I can never say since he's been here he's had a day off work. He will practice with sore hamstrings, everything. He comes to work, and you can appreciate that."
Joe appreciates how hard White works.
Yeah, he took some plays off on four days rest against the Ravens last season and there was that odd sideline non-tackle in San Francisco, but Joe can't call White anything close to a serial loafer through his more than 1,100 snaps last season.
However, Joe is wondering about White's ceiling. He's a very good player who proved to be elite in 2020, though he's never recaptured that level of play.
Given White's dedication and comfort and knowledge in this system, perhaps White's dominant stretch was a flash he's not capable of repeating.