Unfair Boring Label Slapped On Bucs
July 6th, 2023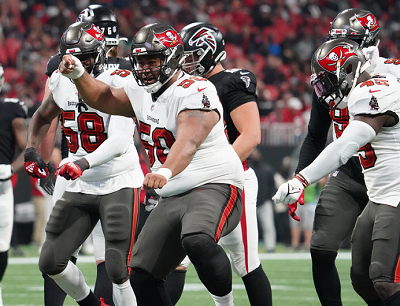 So the Bucs blitz a lot, sack the quarterback a lot and have two big-name, big-time receivers, plus a fun 360-pound beast in the middle of their defensive line and a likely starting QB with an A-list arm and an unpredictable game.
That sounds like a reasonably fun to team to watch, Joe believes.
However, Joe keeps hearing over and over from national media types how the Bucs are a boring AF team now that Tom Brady is gone. It's really getting under Joe's skin.
Joe gets that head coaches are looked to for personality, and Todd Bowles' public persona is about as entertaining as a live C-Span showing of a House Committee on Agriculture meeting. But still, the Bucs are a rather engaging team this season. (At least Shaun King knows it.)
The official Around The NFL podcast had no problem calling the Bucs a snoozer this week. Chief NFL.com editor Greg Rosenthal noted that he used to do a "watchability" ranking for the league website every year. He noted that if he were doing that this season, the Bucs would be ranked last, or maybe No. 30 or No. 31.
"That's a tough sell," co-host Dan Hanzus added.
Joe gives the middle finger salute to this take and hopes these national media types enjoy watching the Cardinals against the Commanders and the Packers-Bears matchup in Week 1 as they keep tabs on the Colts-Jaguars game.