"Kyle Trask Stinks"
June 21st, 2023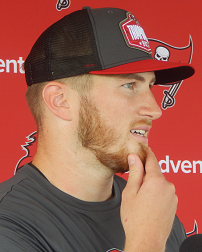 This got Joe to put down the Bromosa and hit rewind because it came from a former Bucs quarterback, a respected voice who does not miss Bucs games and spent years coaching the QB position in college.
In a discussion this week on VSiN PrimeTime, host Shaun King was talking about his beloved Bucs during a deep dive into the most interesting/intriguing NFL teams of 2023.
The Bucs checked in at No. 9, and King talked about how the Bucs bewilder him as he gathers information regularly to figure out why respected Vegas oddsmakers think Tampa Bay is a hot garbage club in a bad division.
"Still in research mode with Tampa. I've got boots in the ground there in Tampa; every practice, I'm getting reports," King said. "Because I think if what I think is true, there's tremendous [betting] value with Tampa. But I'm also trying to really get a grasp on why this win total is as low as it is [at] 6 1/2, specifically because of the division the Bucs are in. The NFC South is, let's be fair, the worst division in the NFC this year."
King is a big fan of running back Rachaad White, Carlton Davis and others, and King recited the many big-name talents on the Bucs' roster. He admitted to thinking oddsmakers would have installed the Bucs as the NFC South betting favorite with a win-total line at 9. But that didn't happen.
Still, King says he can't endorse the Bucs yet as a slam dunk "over" wager at 6 1/2 wins. He's trying to figure out what Vegas is or isn't seeing.
Crystal clear to King, however, is that there is no quarterback competition in Tampa.
Joe was most intrigued by that because King said he's getting those daily reports from the practice happenings at One Buc Palace.
"Kyle Trask stinks," King lectured to his VSiN co-host.

"Listen, if Kyle Trask had done anything in practice during his two years backing up Tom Brady, Tampa doesn't go out and sign Baker Mayfield. He'd have had to have been terrible in practice. Because when you draft a quarterback second round, you want to be right. Jason Licht wants that pick to pan out."
The Bucs wanted Trask to deliver a Tom Brady-Jimmy Garoppolo handoff like was planned in New England years ago, King said, but it did not materialize for Tampa Bay.
King also went on to repeat what he said years ago: Trask was a bad draft pick.
Joe has great respect for King's evaluations and has made that clear on these pages for at least a dozen years. So Joe felt a little badly for Trask upon hearing King say Trask "stinks."
King thinks the Bucs are primed to be a winning team if Mayfield can just play decent football: "If Baker Mayfield is just average, why not?"
As for the "over" wager, Joe likes the Bucs. Every NFC South team won at least seven games last year. That's a low bar for the Bucs' talent level.