"Tom Brady's My Favorite Player Of All-Time"
July 21st, 2023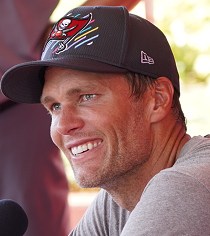 This could provide a shred of perspective on Kyle Trask's shot at becoming the Buccaneers' opening day quarterback.
His offensive coordinator is smitten with the opportunity Trask had the past two years. Dave Canales was gushing about it on the 2 B's In A Pod podcast.
"Tom Brady's my favorite player of all-time," Canales said. "…Knowing that Kyle got to spend some time just sitting there watching and seeing what he did, you know, I would have killed to be a fly on the wall in that room."
It's not the first time Canales has beamed about Brady's obvious influence on Trask. Canales has said he can see it in the Trask dropbacks.
How much did Trask learn from Brady and can Trask put those lessons to work on the field? Joe can't wait to find out.
Ironically, two guys tasked with developing Trask, former offensive coordinator Byron Leftwich and QB coach Clyde Christensen, left the team. If Trask thrives as the Bucs starter with just half the prime training camp reps this summer, those guys will deserve quite a thank you note signed by a lot of important people at One Buc Palace. Brady, too.