Todd Bowles Shuts Door On Tom Brady Talk
July 27th, 2023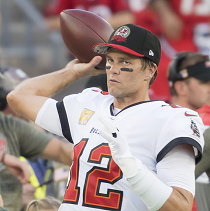 The Buccaneers' head coach is having none of it when it comes to romancing the memory of Tom Brady and its effect on his 2023 football team.
Joe can't blame Todd Bowles. First, the Bucs offense was miserable last season with Brady. Second, it's not a healthy way to approach a new season.
If Brady wants to visit training camp and talk to this team, then it's fine to start talking publicly about a Brady's effect.
Bowles was asked after training camp practice today if there's a lingering Brady mentality and if he can feel it. The head coach slammed the door.
"We've turned the page a while ago," Bowles said. "We don't go back on the past. We can't worry about or wins, losses and who's here and who's not. We're a different team. We know we're a different team. We move forward that way. We don't worry about ghosts from the past or anything else. We worry about what we have now and what we have to do to win."
The term "ghosts from the past" sure felt harsh, but Joe suspects Bowles also was referring to guys like Bucco Bruce Arians, Rob Gronkowski and Jason Pierre-Paul.
It's a thoroughly new day in Tampa Bay, and there's no reason to pretend it isn't.