"These Brothers Can Ball"
July 9th, 2023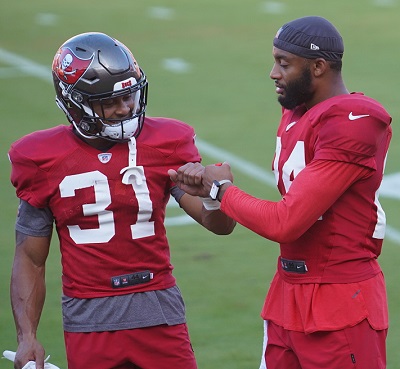 The polarizing Buccaneers stopped a hugely polarizing voice in his tracks last week.
It's all thanks to one man: Carlton Davis, who spoke out in a huge way about being pissed off by the doubters who think Tom Brady drove the Bucs' bus himself.
Screamin' Stephen A. Smith of ESPN read the long feature on Davis and reassesed where he stands on the Bucs this season.
"He got a point," Smith said of Davis on the First Dump show. "They still do have Mike Evans. They still do have Chris Godwin. They still have a top 10 defense. These brothers can ball."
Well, the Bucs' defense was hot garbage late last season, allowing an average of more than 28 points per game in their final six contests last season. So calling Tampa Bay a top-10 defense is no lock.
However, Joe believes the defense can bounce back if it can stay healthy. The horses are there, and Todd Bowles is not stranger to strong defenses.
Smith did not slap a win total on the Bucs, but he thinks Atlanta is bad, Carolina will need a lot of time, and new Saints QB Derek Carr doesn't give him a lot of confidence, though he loves the New Orleans defense. Simply stated, he thinks the Bucs have a shot in the sad NFC South.
Retired NFL receiver Andrew Hawkins shot back at Smith and told Smith he's discounting the loss of Tom Brady. Carlton Davis "is writing checks that Baker Mayfield has to cash," Hawkins said.
Joe loves all the debate and finds some of it funny. Joe thinks Mayfield is very capable of leading the Bucs to an 8-9 record like Brady did last season.