The State Of Kyle Trask Address
July 25th, 2023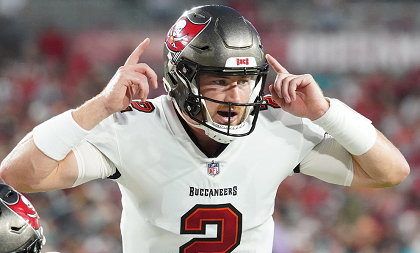 The flag was waving high outside One Buc Palace and the Bucs' commander-in-chief stepped to the media podium inside.
It was then that general manager Jason Licht grabbed his Kyle Trask flag and started waving.
""It's probably the same things that we've been saying for a long time about Kyle – the inner strength that he has, inner confidence, nothing is too big for him," Licht said. "He's had to sit and wait for his opportunity his entire football career, and he's done that now. Nothing seems too big for him, once again. He's made tremendous strides here just this spring from where he was when we first got him.

"And then with Baker [Mayfield], he's full of energy, you know, he does all the right things, he's working his butt off. He has a little bit of an attraction to him because of the energy that he has out there. But once again, once the bullets start flying and we start playing, you know, people, players gravitate to the player that they think is going to give them the best opportunity to win."

"Trask has just had opportunity now. He's out there getting a lot of reps, so with that, you're going to improve. His footwork, I think his arm strength's improved, his accuracy, he's making quicker decisions. Dave [Canales] has done a great job with [QB coach] Thad [Lewis] on getting him to throw quicker, make quicker decisions and throw quicker."
Licht added that Trask looks like a better athlete than he was after the 2021 NFL Draft, when the Bucs made him their second-r0und pick.
"Well, that was something that started last year with Kyle. We started seeing that in training camp, how he was starting to thin out and look a little bit more athletic and quicker than we saw him coming out of Florida, too. You know Bruce [Arians] and I talked a lot about that last year, too, during training camp. I think that's something Kyle's has done on his own but it certainly does help him with this system."
So there you go. Trask is better in every way. Now he just has to play well, and probably significantly better than Mayfield, who hopefully is an average NFL starter.
Training camp starts tomorrow.