League Love For Ryan Jensen, Tristan Wirfs
July 16th, 2023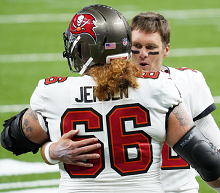 Do the Buccaneers have one of the best interior offensive linemen in the NFL?
Someone thinks they do.
Center Ryan Jensen got at least one vote in the ESPN survey of 80 (combined) team executives, coaches, scouts and players asked to name the top-10 players at each position.
Interior linemen was its own category and Jensen was among 21 interior beasts garnering a vote.
He didn't rank in the top 10, nor was he one of the six to earn "honorable mention." Still, Jensen was recognized, which says a lot considering injuries limited him to just one game last season.
Jensen, 32, is approaching the one-year anniversary of his brutal knee injury at Bucs training camp. Joe has a lot of hope that Jensen will play effectively this season. But return to Pro Bowl form? That feels like a fantasy given his age.
In the offensive tackle category, there was no shortage of love for Tristan Wirfs. He ranked No. 3 in the league after scoring the N0. 2 spot last season. Trent Williams of the 49ers was No. 1 ahead of the Texans' Laremy Tunsil of bong mask fame.
Of the 21 tackles receiving votes, none went to Donovan Smith or Luke Goedeke.