"It Might Be The Hottest Of Seats"
July 17th, 2023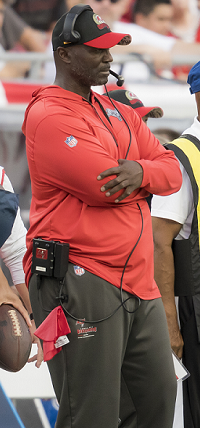 A team colleague of Todd Bowles 20 years ago thinks the Bucs' head man is on the verge of getting fired without fast production during the 2023 season.
Former Browns scout, college recruiting coordinator and longtime ESPN analyst Matt Williamson was around Bowles when he was the assistant secondary coach in Cleveland.
In a recent discussion about NFL head coaches on a hot seat, Williamson said on his Peacock and Williamson Podcast that he is rooting for Bowles but thinks he's in a perilous position. "I think this might be the hottest of seats [in the NFC]," Williamson said. "I fear he's a coordinator and not a head guy, and a really good coordinator."
There was a decent chance Bowles was to be fired in January, Williamson believed, but it didn't happen. He said the Bucs were in an easy position to transition the organization but passed on that opportunity.
This reminded Joe of hearing former Bills director of player personnel Jim Monos talking on a Go Long podcast. He was adamant that the Bucs have been branded a loser by national media this season because of equal parts Bowles and Baker Mayfield.
Joe can't say Bowles is on the hottest seat in the NFC, but it's certainly a hot seat. Team Glazer has little tolerance for losing and has proven that's their stance through generations of ownership.