History Student Rachaad White
July 20th, 2023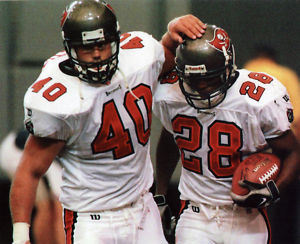 It's quite rare for NFL players to dive into the performance history at their position within their current team.
For example, Joe would wager that Luke Goedeke is unaware of Demar Dotson's 106 starts in a Bucs uniform and Jamel Dean has no idea Donnie Abraham had a whopping 31 interceptions for the Bucs over just six seasons (1996-2001).
Second-year Bucs running back Rachaad White, however, is not that guy. He told The Rich Eisen Show yesterday (Joe listens on SiriusXM Ch. 992) that he's been studying the history of Bucs running backs and named Warrick Dunn, Mike Alstott, Doug Martin and Cadillac Williams.
"I want to be on that list [as a franchise leader] when it's all said and done," White said. He added that studying Bucs running back history is about "understanding where I'm trying to go every day, writing things down."
Nicely done, White. Respecting history is a beautiful thing, though it still irks Joe that White keeps saying the Bucs haven't had a 1,000-yard rusher since Martin in 2015. Somebody hand White the rushing stats of Ronald Jones during the 2020 regular season and postseason. If White can be 80 percent as productive and efficient as Jones was that season, the Bucs will have a heck of a running back in 2023.
White added that his offseason homework also includes studying a load of his own film — "the good and the bad."
Ira Kaufman Talks QB Competition Logistics, Timelines & Veterans Leaning Toward Baker Mayfield, Antoine Winfield Vs. Devin White, And Ira Takes Fan Questions & More