Details Trickle In On Russell Gage Injury
July 26th, 2023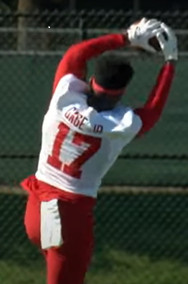 Training camp started today at One Buc Palace and veteran receiver Russell Gage was seen smiling and laughing with teammates and watching practice.
He wasn't on the field, or at least the main practice field. Earlier in the practice, he was running sprints on a side field.
Gage's injury has spanned months and the Bucs have yet to disclose exactly what it is. They don't have to because it didn't happen during the regular season.
Today after practice, head coach Todd Bowles finally leaked a little info on the injury.
"It's a lower extremity injury. I mean, it's a leg injury," Bowles said of Gage. "But he'll be fine. I mean, we're counting on him. He'll be back."
Joe is glad to hear it, but Joe also remembers 13 1/2 months ago when Tom Brady talked about injured Gage and said he had a lot of work to do in the weeks leading up to training camp to overcome his time missed in the spring.
Now the Bucs have a new quarterback, a guy that will need reps with Gage to avoid annoying and potentially critical miscommunications early in the season.