Building The Offensive Line
July 24th, 2023
Nothing, and Joe means nothing, gets Bucs fans to howl at the moon quite like mentioning the offensive line.
So even though this is a neat look at how Bucs AC/DC-loving general manager Jason Licht builds an offensive line, Joe is confident several commenters, will wail how the Bucs' offensive line is surely the spark behind global warming and the Ebola virus.
(Hey folks who howl like a black lab about how the Bucs' offensive line in 2022 was the worst since George Pickett marched outside Gettysburg, how could you have the worst offensive line in the game and yet have the best right tackle in the game? Please riddle Joe that, Batman.)
Brandon Thorn, who built a unique cottage industry for himself  spending most of his waking hours studying offensive line play, thinks he may have cracked the code of Licht's roster-building when it comes to the interior offensive line.
Licht likes small school dudes and Thorn thinks he knows why.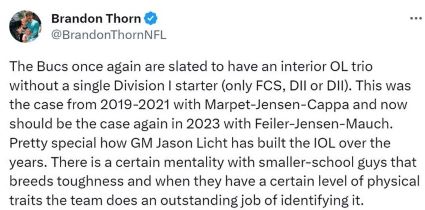 For those that don't know much about Matt Feiler, he comes from Division-II Bloomsburg (Pa.) by way of the Steelers and Chargers. He joins Ryan Jensen (Division-II Colorado State-Pueblo) and Cody Mauch (Division I-AA North Dakota State) on the small school gang.
Joe believes Thorn is onto something about the mentality. But there are other factors Joe thinks Thorn missed. On is the small school syndrome.
Licht likes guys with an edge to them on the offensive line. Licht loves guys with big personalities because he has said his research shows guys with big personalities are often workaholics, and workaholics are more likely to max out their talents than dudes who think they've got it all figured out.
Also, small school guys seem to have the mindset that they have to bust their arses harder to prove they can play.
Sometimes, all it takes is an edge like that to succeed.