"Brady Was Checked Out"
July 24th, 2023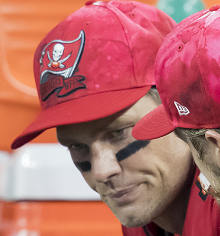 The Bucs-Baker Mayfield bandwagon includes several national media types who feel good about the team being better than the 6 1/2 win total assigned to it by most sportsbooks.
Another one is former Bills personnel director Jim Monos, who also spent a combined 13 years as a scout with the Eagles and Saints.
He was talking Bucs on the Go Long podcast this month and was unafraid to say that Tom Brady too often looked like a washed out quarterback last season. Joe loves Brady, but only a weakened quarterback leads his team to an average of 18 points per game.
"You're maxed out with Brady at that point," Monos said of 2022 Brady. "He was an easy guy to prepare for — for defenses. He wasn't going anywhere.

"I just think they'll be able to do more with Mayfield because, to be honest, he's just younger and tougher right now. Brady was good; Brady was checked out."
When Monos said "good," he was referring to Brady having a mindset of 'I'm good.' (If you don't get it, then you're too old.)
Joe loves the optimism. And yes, Joe would bet more than a few bucks that the Tampa Bay offense is more productive than it was last season.