"Two Completely Different Offenses"
June 15th, 2023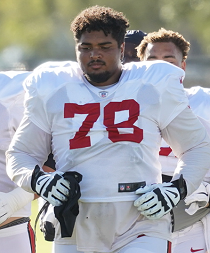 Joe always loves hearing from one of the great Buccaneers of all-time, a guy who is just 24 years old.
Manbeast good-guy left tackle Tristan Wirfs is all fired up learning his new position. And he thinks he's doing a damn good job of it, Wirfs told WDAE radio this week.
Wirfs also talked about jumping into the Dave Canales offense after growing up in the no-risk-it-no-biscuit attack of Bucco Bruce Arians and Byron "SpongeBob" Leftwich.
"This one, I feel like it's very diverse," said of the Canales offense. "We got a lot of different things. We got the mid-zone family, we got the outside zone [runs], a lot of play-action and stuff like that."

He stressed that the Canales way represents diversity to the returning Bucs.

"I mean, when I came in, I knew what I was coming into. Obviously, having Tom, you know we were going to sling it. And it worked for us. So they're two completely different offenses. Both of have been successful. So I've been really excited to get down and work on this one. It's been awesome."
Wirfs went on to say he views all his techniques as the same at left tackle compared what he dealt with for three years at right tackle. It's just the repetition of doing it with the opposite hands and feat. "When it gets down to the nitty gritty, it's the exact same thing," Wirfs said.
Specifically, Wirfs talked about "building that muscle memory up with my left hand," and he feels he's completely on track to do that successfully in Week 1.