Sean Murphy-Bunting Says He Left Bucs For "Clean Slate And Clean Opportunity"
June 27th, 2023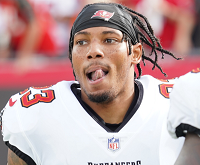 A Bucs Super Bowl-run hero three seasons ago, Sean Murphy-Bunting left the club in March at 25 years old for the Tennessee Titans.
Today, he talked on SiriusXM NFL Radio about why he was eager to leave the Buccaneers.
"I wanted to go somwhere where I could play outside corner," Murphy-Bunting said. "Obviously, I played inside and outside in my career in Tampa, and I was doing, you know, what the team needed and what was best for what we needed as a team. But now I'm at a point where I kind of wanted to play outside and kind of make my name on the outside, and that's what I feel like I've been best at my entire career."

Murphy-Bunting went on to say he's comfortable being versatile but wanted a clear path to win a starting outside cornerback job.

"I just wanted the clean slate and clean opportunity of being able to, you know, be the corner first," he said.
Did the Bucs want Murphy-Bunting back? They did and they didn't, Murphy-Bunting explained.
It seems the Bucs didn't show him the money, but did respect his desire to be a starting outside cornerback.
Obviously, with Carlton Davis on the roster and the Bucs dropping a massive contract on Jamel Dean in March, that wasn't going to happen.
Murphy-Bunting said Todd Bowles and cornerbacks coach Kevin Ross were "very vocal"  about wanting him to stay with Tampa Bay. He said he left his agent to talk to general manager Jason Licht and spoke little to him directly.
As fans may remember, Joe talked to Bowles about Murphy-Bunting in a 1-on-1 sitdown three months ago. There, Bowles talked about wanting but losing his 2019 second-round draft pick, and not being quite sure what happened.
Joe supposes the moral of the story is, when your team goes on a historic run drafting and developing quality defensive backs, some will leave for more cash and opportunity.