Practice Notes On Final OTA Open To Media
June 6th, 2023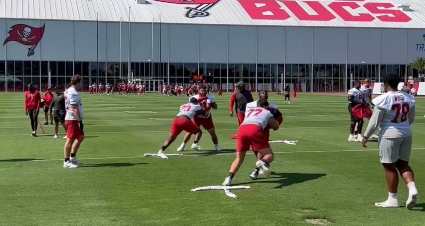 So after this morning's underwear football practice open to media, the Bucs will have a three-day mandatory minicamp next week. After that, training camp in late July is the next time players will be seen together on the field.
Mike Evans was here today and seems to be, well, Mike Evans. Rookie reciever Trey Palmer continues to get a lot of snaps with the ones (first team), and it appeared that Kyle Trask got more snaps today, though still mostly working with the twos.
(Please remember: Underwear football is basically flag football without the flags. No hitting of any sort. The only pieces of football equipment players use is helmets, cleats and jocks.)
* Baker Mayfield tucks the ball when he couldn't find anyone open and ran up the middle towards the left side. There seemed to be a little more of this today, quarterbacks under pressure.
* K.J. Britt dropped a can of corn pass over the middle from Mayfield that should have been picked. Britt jumped up and down in frustration.
* Trask throws a bit too long down the left sideline for a diving Kaylon Geiger. But given his slippery hands, the extra effort probably wasn't needed from Geiger.
* Ke'Shawn Vaughn takes a handoff, runs right then cuts back left for some yardage. It must have been a nice run because Joe could hear the offensive players yelling "Sneak!" (FYI, "Sneak" is Vaughn's nickname.)
* It looked as if Patrick O'Connor blocked a Mayfield pass at the line of scrimmage. Logan Hall was right there too with outstretched arms so maybe he had a hand in there?
* Trask fakes a handoff up the middle, takes two or three steps to his right and connects with Patrick Laird (Cal) on the left side.
* Now a veteran. … Lining up after breaking the huddle, Trask gets the attention of undrafted rookie running back Ronnie Brown and points to where Brown should line up. Brown heeds Trask's order.
* On a slant pass from the right side, a Mayfield pass hits Evans right in the hands in stride and Evans cannot haul it in. Looked like a defender may have gotten a fingernail on the ball just enough to change the flight a split-second just before it hit Evans' paws.
* Mayfield connects with Chris Godwin coming in from the left side.
* Mayfield pumps and aims for Cade Otton on the left side but Otton couldn't quite bring the ball in.
* David Moore (East Central) is wide open on the left side and Trask makes sure he gets the ball.
* Trask is chased out of the pocket under pressure.
* Under center, Trask hands off to Brown who runs right for a big gain.
* Trask throws just a tad behind Ryan Miller (Furman) but Miller, coming in from the right side, still comes up with the catch.
7-on-7
* Mayfield hits Kade Warner perfectly in the hands down the left sideline.
* Miller slides to pull in a pass from Trask.
* Trask finds Cade Otton over the middle.
* Trask to Brown on the left side.
* J.J. Russell breaks up a Trask pass intended for Geiger.
Red zone
* The immortal tight end Tanner Taula (Illinois State) catches a pass from Trask down the right seam.
* Mayfield threads a tight window to Palmer over the middle for a touchdown as Jamel Dean throws Palmer down with one arm as Palmer leaned over the goal line while falling after catching the pass. It looked as if Dean's hand got inside Palmer's frame when he caught the ball and hung on as Dean tried to rip the ball out. In the follow-through, Dean took Palmer to the turf.
* Joe will repeat/remind readers that since Russell Gage is hurt (again), Palmer has been getting a lot of snaps with the ones and he's not throwing up on himself.
* Lots of traffic around Mayfield as he sets up to throw and he just takes off.
* Trask connects with Taula right on the money as Taula quickly turned around to face Trask and set his feet and squared himself to the line waiting for the ball.
* Hey, it's practice: Mayfield lofts a giant rainbow to the far left corner of the end zone where only Mike Evans had a chance of catching the ball. He couldn't, though. Dean dove and got a hand on the pass as it fell out of bounds.
* Trask down the left seam to tight end Dominique Dafney (Indiana State) who pops up and does the Keyshawn Johnson first down routine.
* Trask throws to Evans down the right sideline a little too wide outside out of bounds for Evans. He just couldn't hang on as he dove for the ball.
Goal line
* Mayfield hits Evans as he got loose cutting inside from the right. Mayfield dropped the ball right in the bucket for Evans.
* Trask throws low (this is not always a bad thing) to Palmer who goes low to dig it up and scores. Palmer immediately popped up and held the ball aloft to show folks he caught it.