New Run Focus Should Develop Tristan Wirfs
June 29th, 2023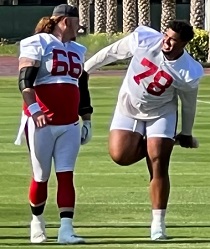 Intriguing take from Tristan Wirfs himself: the Bucs passed the ball so darn much with Tom Brady that Wirfs' game at right tackle transformed.
His Iowa Hawkeyes ran more than they passed, so Wirfs saw himself more as a run blocker as a Bucs rookie. That's changed.
"I feel like I'm a much better pass protector than I am a run blocker, just simply because of the fact that we did it twice as much," Wirfs told the Vikes Verified podcast. "But it's been really cool to kind of see my pass protection evolve. All these defensive ends have a plan, and you can throw a wrench in their plan with the smallest thing. And it's cool to figure out those little tricks of the trade almost. I try to be a technician, as much of a technician as I can."
Wirfs added that he tries to be high-effort player and a good finisher.
So now the Bucs will run a lot more in the Dave Canales/Todd Bowles offense, probably at least another 100 attempts more than last season.
Joe wonders if that reality will further develop Wirfs' game and make him more of an all-around terror. Joe's not saying Wirfs was subpar as a run blocker, but did the Bucs really have any mauling O-linemen last season?