Logan Ryan Believes On-Field And Off-The-Field Issues Were "Weighing On" Tom Brady
June 29th, 2023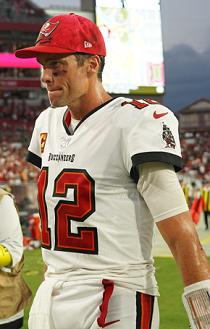 Considering former Bucs safety/corner Logan Ryan and Tom Brady have been good friends, even volunteering together with their families at the Humane Society of Tampa Bay last year, Joe considers this Brady commentary quite credible.
Ryan, 32, played with Brady in New England and in Tampa last season. He's currently a free agent and made a visit to the The Herd set on FS1 this week.
Ryan thinks the Bucs ended an era last season in multiple ways. And he was willing to say Brady was affected negatively by his off-field feelings during the 2022 season. Not a lot of Bucs or former Bucs have gone there publicly.
"Tampa was only built for so long in terms of the amount of veterans, the amount of money being spent, the amount of weapons on that side of the ball for Brady," Ryan said. "So there was some finality in the season."

"But I think just knowing how he was interacting with his family, his kids, in terms of really wanting to spend time with his kids and be there with his kids, that was a little different. Because his kids were older. I think the stuff that was going on off the field and on the field I think was weighing on him a little bit, as obviously we're all humans. So I knew that there was going to be some type of break after the season. Now whether that be return or not, he wouldn't tell me."
Joe is not going to rehash 2022 Brady here, but the Bucs only scored 18 points per game with The Goat at quarterback and at least solid weapons around him.
Despite an extra regular-season game on the schedule, last year's Bucs scored just three more touchdowns than the bumbling 2014 Bucs with Josh McCown and Mike Glennon sharing quarterback duties behind one of the worst Tampa Bay offensive lines ever assembled. And don't forget the offensive coordinator that has never returned to the NFL.
Something was holding Brady back last season. For the sake of the 2023 Bucs, hopefully it was Brady himself and fired offensive coordinator Byron Leftwich.