Lacking Run Game Sure Seemed Like It Sank Tom Brady And The Bucs
June 23rd, 2023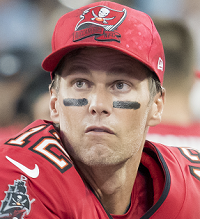 A little research shows it's fair to say the worst rushing attack in the NFL last year did the Bucs in.
Yes, the Bucs got to the playoffs thanks to a lousy division. And recent history reveals that if you cannot run the ball, you are screwed unless you have a superior quarterback.
Joe has seen a six-year pattern: Teams with a garbage rushing attack but a top-shelf quarterback were OK. Teams that had a garbage run game and no quarterback were, well, horrid.
Here are the records of teams with the NFL's worst running games in the corresponding seasons.
2022: Bucs 8-9
2021: Texans 4-13
2020: Steelers 12-4
2019: Dolphins 5-11
2018: Cardinals 3-13
2017: Lions 9-7
As you can see, the Bucs and Steelers had Hall of Fame quarterbacks to save their bacon. The Lions had Matt Stafford. Joe isn't sure he's a Hall of Famer but he has had excellent seasons.
Yes, Brady ranked third in the league in passing last year. That saved the Bucs.
Brady sure did cover up a lot of warts on offense.