Bruce Arians Gives Edge To Baker Mayfield, Backhanded Criticism Of Tom Brady
June 7th, 2023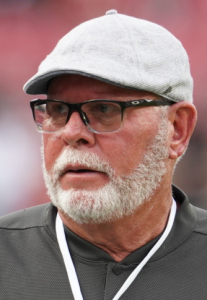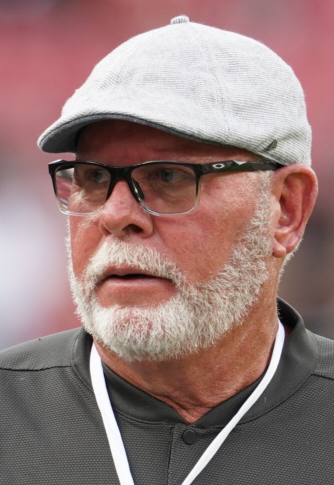 It's always an adventure when Bucco Bruce Arians gets behind a microphone.
Before Arians retired, he had plenty of misdirection and bend-the-truth answers for media, but significantly less than most head coaches deliver. So Arians was always a fun and candor-fueled ride.
The Super Bowl head coach has continued to speak freely at times in his role as advisor to Bucs general manager Jason Licht.
Arians was interviewed two weeks ago on The National Football Show. There he talked about the Baker Mayfield-Kyle Trask quarterback battle, and Arians' comments reveal that he's been watching practice film. (Arians has not been attending spring practices at One Buc Palace.)
Asked what Mayfield has brought to the Tampa Bay offense, this was Arians' reply.
"A little fire, I think we needed a little bit of fire on offense," Arians said of Mayfield.

"But you gotta go back and look at Kyle Trask [on May 23]; He had a great end of practice. So it's a nice battle. So it's a nice battle. You got two young guys who I think are extremely talented and they're doing a great job."
So with Tom Brady at quarterback last season, Arians thought the Bucs were lacking proper fire on offense? That's quite intriguing.
Arians went on to explain he thinks Mayfield is leading the two-man race.
"Baker has been there and done it, and has I think a little bit of an edge just because of that leadership and having been in the huddle with pro guys a lot," Arians said. "But the guys really respect Kyle also. I love [Baker]. I think he just brings a charisma and a fire to your offense."
As Joe has written and said for weeks, it will take a truly eye-opening August for Trask to win the quarterback competition. Todd Bowles desperately needs wins on his résumé, at least two prior to the Bucs' Week 5 bye week.
Mayfield has proven he can win games and get players to rally behind him. Trask has no record and was a No. 64 overall pick.
When it comes to the reality and perception game — Bowels very likely knows he's better off with Mayfield starting in Week 1. If it doesn't work and there's a move to Trask after the bye week, that's not a bad look. But if Trask fails early and the Bucs switch to Mayfield with some success, Bowles will be judged as a head coach who couldn't judge the quarterback position effectively.
Arians also added that Mayfield is smart and works on fundamentals "nonstop," and that he or Trask can get the job done.