Believing In Baker Mayfield
June 3rd, 2023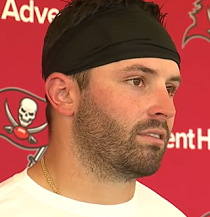 BY IRA KAUFMAN
@IKaufman76
(Columnist Ira Kaufman is The Sage of Tampa Bay Sports. He started covering the NFL full-time in 1979 and arrived in Tampa to cover the Bucs in 1985. Ira is about to enter his eighth year with JoeBucsFan.com and remains Tampa Bay's lone Pro Football Hall of Fame selector. His work is presented by "The Giant," Bill Currie Ford, 5815 N Dale Mabry Hwy in Tampa, where GM Sean Sullivan happily will give you the Ira Kaufman discount.)
It's official. This is open season on Baker Mayfield.
It seems like every national pundit feels compelled to take a potshot at a veteran quarterback trying to resurrect a once-promising career. Perhaps part of the reason is Mayfield's refusal to play nice with the media on occasion.
He's feisty and confident, which can come off as cocky. Buc fans won't care one lick about his personality traits if Mayfield beats out Kyle Trask and pumps life into a plodding attack.
Betting against the No. 1 overall pick in the 2018 draft is a dangerous game. Besides being only 28,  Mayfield is healthy and hungry to prove his many skeptics wrong.
It should shock no one if Mayfield flourishes under new offensive coordinator Dave Canales, who just brought out the best in Geno Smith. You don't have to go back very far to find a time and place when Mayfield looked like a young quarterback on the rise.
He had a very good regular season for the 2020 Browns, who went 11-5 before going into Pittsburgh as an underdog and hanging 48 points on a proud Steelers defense.
The following week was almost as impressive.
The Browns trailed 19-3 at the half in Kansas City before scaring the mustache off Andy Reid. Mayfield kept converting third downs and fourth downs before Cleveland grudgingly fell short 22-17.
Even in defeat, Mayfield endeared himself to Browns Nation for leading Cleveland to its first winning season since 2007. This was a young, driven team that had seemingly found its franchise quarterback.
The start of the 2021 season hardly changed the narrative. Opening at Arrowhead, the Browns led 29-20 in the fourth quarter before dropping a 33-29 decision as Mayfield completed 21-of-28 passes for 321 yards.
Cleveland then strung together three wins before a 47-42 setback against the Chargers. It marked the first time in NFL history a losing team scored at least 40 points and didn't commit a turnover.
Mayfield was at the top of his game.
But in Week 6, Mayfield aggravated a shoulder injury. He couldn't play the following week, ending a streak of 51 consecutive starts. Mayfield and the Browns were never the same the rest of the way en route to an 8-9 finish. Before Mayfield was hurt, the Browns were averaging 28 points per game. After Week 5, Cleveland averaged only 17 points.
We're not talking ancient history here — this was only two years ago. And while there's no guarantee Mayfield can regain his past form, there's no reason to close the book on a talented quarterback eager to write a new chapter at One Buc Place,
Mayfield's running skills fall far short of Patrick Mahomes or Josh Allen, but he can move. Compared to Tom Brady's mobility, he's Lamar Jackson.
Canales has no intention of confining Mayfield to the confines of the pocket.
Mayfield has proven to be effective on rollouts to either side, exerting pressure on defenses with his ability to find targets while on the run. Speaking of targets, Mike Evans and Chris Godwin are eager to stretch the field this fall instead of catching 8-yard passes.
We're not talking about a Tim Couch, another quarterback the Browns once selected with the top overall draft pick (1999). Couch did little as a pro while Mayfield has twice been chosen as one of the league's Top 100 players in voting by his peers.
Here's his chance to prove the naysayers wrong. This is already his fourth NFL stop. Mayfield's revival as a starter may be dead ahead.
Ira Kaufman Takes A Different Angle On The Offensive Line, Talks Hospital Visit, Tom Brady Statements, Shaq Barrett Chatter, Red Zone Changes, Saints GM's Comments & Much More