A Second-Tier Evaluation For Bucs' Receiving Corps
June 4th, 2023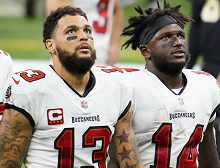 The Bucs used to have an elite receiving corps and Joe thinks they still could in 2023, even with Breshad Perriman about to sign with the Colts, Scotty Miller in Atlanta and Antonio Brown gearing up for his next legal battle.
(For those wondering, Cyril Grayson spent a week on the Browns practice squad last season and is now a backup in the USFL.)
It's fair to say the Bucs' depth at receiver now is questionable. And that's what kept them off one plugged in former coach and personnel executive list of top-5 receiving corps. Pat Kirwan, the former Jets honcho, linebackers coach and Bucs scout, ranked the Bucs as the No. 7 receiving corps in the league this season.
Here was Kirwan's order, as shared on his SiriusXM NFL Radio show last week.
No. 1 — Bengals
No. 2 — Chargers
No. 3 — Eagles
No. 4 — Dolphins
No. 5 — Raiders
No. 6 — Jets
No. 7 — Bucs
No. 8 — Cowboys
Joe can't argue too much with Kirwan, but the ranking is a little low for Joe's taste.
Joe agrees with former Pro Bowl receiver Ed McCaffrey, Christian's dad. He spelled out that Mike Evans and Chris Godwin are a top-3 or a top-4 receiver tandem in the league. So it's hard for Joe to believe Russell Gage and whoever the Bucs use as Nos. 4 and 5 receivers will drag the unit all the way down to a No. 7 ranking. But Joe could see that.
Gage, despite 50-plus catches and 5 touchdowns last season, is a question mark because of his current and past injuries.