The Mike Evans-Chris Godwin Tandem Ranking
June 1st, 2023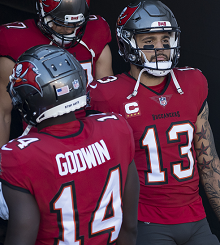 Fantasy football players know Mike Evans and Chris Godwin were not the tandem you wanted on your team last season.
They combined for only nine touchdowns. Seven NFL receivers had that many or more on their own.
Still, Evans and Godwin racked up about 2,150 yards combined and were very dangerous, especially considering Godwin was coming off a serious knee injury.
So are Evans and Godwin still an elite NFL receiving duo. It's common in bars from Lakeland to Largo to say they arguably are the best tandem in the league.
Joe can't go there, but they're certainly in Joe's top-5.
Former Pro Bowl receiver and three-time Super Bowl champ Ed McCaffrey, Christian's dad, joined retired defensive back Solomon Wilcots for a discussion of the subject on SiriusXM NFL Radio this morning.
Their consensus top-2 tandems are Miami's Tyreek Hill and Jaylen Waddle (easy choice) and Bengals Ja'Marr Chase and Tee Higgins.
The next tier discussed was D.K. Metcalf and Tyler Lockett of Seattle and Godwin and Evans.
They then moved on to the Chargers' Keenan Allen and Mike Williams, and the highly productive Eagles team of A.J. Brown and DeVonta Smith. Those guys ranked fourth and ninth, respectively, in total yards last season.
Joe will not entertain McCaffrey's silliness of trying to include the Vikings duo Justin Jefferson and rookie Jordan Addison, who played for USC last season. He's a rookie drafted late in the first round. Stop the nonsense.
Joe is hungry to see how far Evans and Godwin can carry the Bucs. Joe believes each remains capable of having a career year. Imagine if Godwin busts out for 1,300 yards and 10 touchdowns and Evans has a normal year of 1,100 yards and 9 TDs.
It's very hard to be a bad team with those kinds of receiver numbers.